Poetry Issued by Ocaso Press Ltda.
All collections are issued as free pdf ebooks that can be read on screens and tablets as small as seven inches. Click on cover illustrations to be taken to the introduction and download page.

Please note that Small Talk, The Nutcracker, Julius Caesar, Planet Earth and Aries Rising collections have been withdrawn, and a few of their poems transferred to A Book of Places.


Current Collections
OCASO SELECTED POEMS
Poems and excerpts from all collections. A personal choice but illustrating the themes, styles and range of Colin Holcombe's work. The poems are grouped so as to provide some continuity to enjoyable reading through themes that progress from childhood through love in its all its forms, to society, travel, history, the miseries of war and oppression to the thoughts that close off our human existence. This is poetry as it once was, before Modernism imposed its narrow filters: an attempt to express the elemental human condition, memorably, eloquently and truthfully, through a wide breadth of subject matter, search for beauty of phrase, and deliberate verse craftsmanship.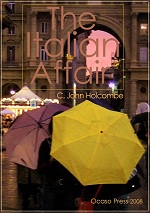 THE ITALIAN AFFAIR
Nicholas's affair with the captivating Clare is not progressing well. In fact it's not progressing at all, despite a summer holiday together in Italy where they do all that could be expected of a well-bred and cultivated couple: tour around, visit galleries and churches, follow up invitations and dine out in romantic settings. Back home in England, Nicholas is even more perplexed when Clare takes up with a young socialite who dabbles in banking. What is the budding art historian to do? An affectionate look at the antics and follies of the English upper-middle classes — a sort of Three Weddings and A Funeral in verse.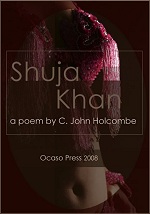 SHUJA KHAN
Shuja Khan and his Toba princess are fictions rooted in historical fact. When the story opens in 690 A.H.( A.D. 1290), the Mongol conquests initiated by Genghiz Khan have been extended and consolidated by his extensive family. Iran and the Middle East are ruled by the Ilkhans, descendants of Genghiz's grandson Hulegu. China is ruled by Genghiz's grandson Qubilai (Coleridge's Kubla Khan), founder of the Yuan Dynasty and nominally Great Khan (Qaghan). The northern part of central Asia is occupied by the Golden Horde, and the southern part by the Chaghatayids. Local wars are common, and neither the Golden Horde nor the Chaghatayids pay much attention to the Chinese ruler.
SATYAVATI
Like Fitzgerald's Rubaiyat, the fictional story of Satyavati derives from many sources — in this case the popular romances of pre-Mogul India. The speaker is Hushang ibn Dilawar, ruler of the small sultanate of Malwa in what is now Madhya Pradesh in north-central India. Hushang introduced a policy of religious toleration, encouraged sufis and Islamic clerics to settle in the kingdom, and employed many Rajput (Hindu) soldiers in his army. India has many poems telling the love of Islamic rulers for Hindu princesses, most of them ending badly. Hushang's misfortunes stem from his character — his distrust of Satyavati's brother, whose death he engineers, and his attack on the stronghold of Satyavati's family.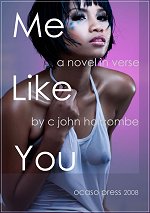 ME LIKE YOU
Like a contemporary Moll Flanders, the beautiful Mai Ying progresses from Bangkok peepshow performer to bar-girl, unpaid British housemaid, escort hostess to finally mistress and soon-to-be wife of a wealthy industrialist. In this comedy of manners, Mai Ying is the poorly-educated but knowing student of male hypocrisy — until she falls for the industrialist's son and enjoys the raptures of physical possession that she has supplied to men but not tasted before. Mai Ying is a survivor, the laughing and rapacious sorcerer, and she returns to Thailand not a whit restrained or sadder for her adventures in the land of farangs.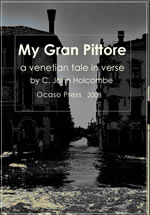 MY GRAN PITTORE
Venice at the height of her glory, and celebrated above all in the canvases of Veronese. But what has happened to that altarpiece commissioned from him, the one modeled on a child he had of the courtesan Antonia Schiavoni? Ten years later it has not been delivered. The new abbess calls him to account, and in the aged painter makes various excuses — until he must meet the courtesan and their daughter again, when he sees his life as great gifts squandered. A sadder man returns to the small church of San Sebastiano, where his canvases show him what he was once had the power to achieve.
I SAW IT ALL
In this tale for our times, where the Civil Service has become a political machine, an ambitious young protégé of Tony Blair's finesses the concept of 'spin' and does his master's bidding through the Whitehall corridors of power. In this he is joined by his secretary, Fiona, a beautiful woman out of our hero's social league but one who knows advantage when she sees it. Only one obstacle stands in the way of our hero's climb to power, the wily Permanent Secretary, and Sir Roderick is not a loyal Blairite, though too astute to say so. He will have to go, decides our hero, but how?
MEG AND I
A depiction of the east Anglian countryside in her various moods and seasons, but also a tale of commercial adventure as young Robbie and his sweetheart Meg struggle to make a go of their butterfly farm in the depths of an abandoned market-gardening estate. Robbie is an oddball character and Meg is no beauty queen, but they find affection for each other in shared discomfort and hard work about their little farm. In looking back over a half century, Robbie finds life just as he thought it would be, part of a tradition coloured by individual hopes and disappointments, and more by simply soldiering on.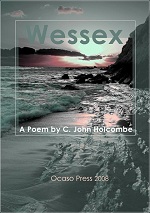 WESSEX
All writers have their jealous but inconstant muses, and here the mocking spirit flits across the English countryside and through the generations of a family that traces itself to holdings in the west country long before the Normans came. In this modern version of the English pastoral the same themes are repeated: the constant longing for place, the reference to what should have been, the evocation of someone dead who still serves as emissary to a world that lies everywhere around us, if we had the humility and sense of history to see it. An evocative portrayal of past generations.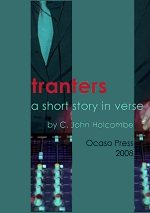 TRANTERS
The whole lot of them were chancers, good-natured philanderers who take up various trades in London but who never settle, being always attracted to women and their mysterious ways. But Charlie Tranter does settle, and balances family life with innumerable affairs, until he gets into one scrape too many. He is away on the usual fling when his wife and young kiddie perish in a house blaze. The local press go to town on the episode, and Tranter loses his job. But not for long. Irrepressible as ever, he is soon a rep travelling in ladies underwear, and the pattern of conquests begins again over the southern counties of England.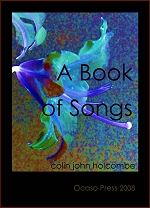 A BOOK OF SONGS
An old-fashioned book of poetry: thirty poems on love in its various aspects and manifestations. Some are simple and faux-naif, little more than nursery rhymes. Others are more demanding and extended. Many of the poems follow strict and/or complex rhyme schemes, and all are metrical. Indeed this short collection demonstrates what Modernism denies, that traditional poetry may create pieces of memorable beauty while not shunning contemporary issues and themes.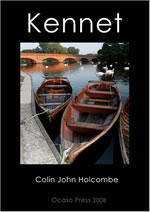 KENNET
A countryside romance set in the Berkshire Downlands. A lawyer's son falls for the daughter of a local landowner, and goes abroad to earn the money to set himself up in farming. She is destined elsewhere, however, and, though returning his feelings, the girl eventually marries into her own class. Not a comment on social manners so much a depiction of early love and its steadying and warming influence on the young man's later marriage and successful farming. Life as it still is in the rural communities of England, with its stress on the manners appropriate to class, and the long traditions that reach back over the centuries.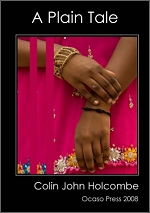 A PLAIN TALE
A plain tale from the Indian hills. George Phelan follows in his father's footsteps to India, via the usual route of the English ruling classes: public school, Oxford and the India Office. His accomplishments mark him off from the normal run, but he's also sensitive enough to see through the hypocrisies of the English Raj and want something more authentic and helpful to the subcontinent. His father's ideal of public service clashes with the sensual nature of Indian life, and he is drawn to local girls and frank eroticism of Tamil literature. He disciplines and remakes himself as an agricultural specialist, but the old longings keep him from following the expected route of expatriate marriage and local governance.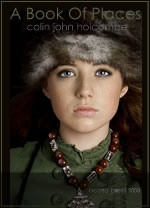 A BOOK OF PLACES
The hundred-odd poems include work from other collections, and now take the reader through various settings in London and southern England to Iran and north Africa, to south-east Asia and Oceania, back to Europe and thence to Latin America. There are poems set in academia and military establishments, in high society and among ordinary folk, in cafés, nightclubs, churches, hospitals on the streets of tropical cities, on desert roads and the lush jungles of Indonesia. Anyone who enjoys the romance of travel will like these poems, which exhibit an unusually wide range of style, from free verse to tightly rhymed forms, all characterize by scrupulous craftsmanship and a keen ear for the possibilities of English metre.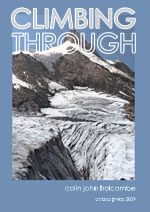 CLIMBING THROUGH
Life changes for Davie when he stalls on a challenging ascent and is written off as a competent climber. True, he marries his girlfriend Deborah and they have a child together, with another expected soon, but the sense of failure eats into his character, turning the natural leader into a silent introvert continually brooding on what went wrong. When his old climbing partner is killed on attempting a solo climb on the same mountain, Davie resolves to undertake a solo climb himself, against good mountaineering practice and Deborah's pleadings to put the family first. Davie succeeds in the climb, but Deborah never forgives him for risking their future happiness. The two gradually drift apart, and Davie comes to see why climbing is so important to him, more than anything else in the world.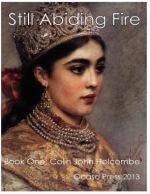 THAT STILL ABIDING FIRE: BOOK ONE
That Still Abiding Fire is modeled on Dante's Divine Comedy, and also uses the terza rima form that generates terse expressiveness if handled correctly. But here hell is more contemporary — not some bottomless pit where sinners are treated to ever more diabolical torments, but the world around us, how we adulterate and ruin what should be beneficent and beautiful. The first book evokes the splendors and miseries of love, with each form personified by famous lovers.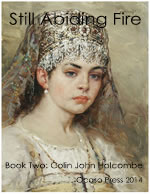 THAT STILL ABIDING FIRE: BOOK TWO
This second book of That Still Abiding Fire is again modelled on Dante's Divine Comedy, and also uses the terza rima form, but here, in the most uncomfortable section of the series, deals with the miseries of war and civil unrest. The view of human nature here is very dark, but needed to contrast the happier outlooks of books one and three. As before, the sections are built around characters, some actual and some fictional, but all telling of real events.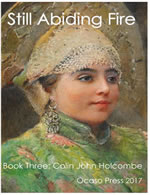 THAT STILL ABIDING FIRE: BOOK THREE
In this third and final book of That Still Abiding Fire the focus is on artists of all descriptions: those in the fields of writing and poetry, of painting and of dancing, but also naturalists and those that give their lives in the service of others. This is Schopenhauer's view, that we escape the miseries of life in self expression or in devotion to others. All the participants look inward and express their larger vision through commitments to a social obligation that represents life as it should be.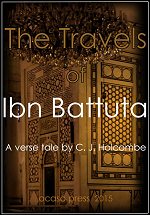 IBN BATTUTA'S TRAVELS
Ibn Battuta's rihla is a typical document of the period, packed with details that would interest his educated contemporaries, as it does historians, but remaining silent on the conduct and concerns of other classes. It tells us practically nothing about Ibn Battuta's private life, or of the several women he married on the way. So while this poem follows the broad itinerary of Ibn Battuta's travels, its flavour, thoughts and intimate details are very much my creation. Ibn Battuta would have taken for granted what is often explored here, and is indeed my reason for writing the poem — those issues of faith, custom and hospitality that still make the Muslim world foreign to the west.
LET THOSE THAT HAVE EARS
A contemporary morality tale in which an amateur singer falls for a another member of the choir, until the affair is brought to an end by a viral infection that leaves him partially deaf in both ears. A punishment for sinning against his wedding vows? So it seems to our protagonist, who sees a religious significance to events.
The story is the simplest, but the life-altering experience of love is described through the medium of music, most particularly the appeal of the human voice, which can range from ecstasy and dark despair.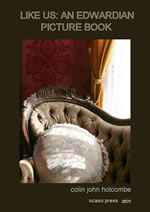 LIKE US: SNAPSHOTS OF AN EDWARDIAN WORLD
Our modern world is built on the failures of the past, and in this collection of poems the events, places and personalities of the First World War are brought into focus. Each of these hundred linked sonnets presents a vignette of some aspect of the war through the eyes of its participants, mixing contemporary accounts with modern views on its causes, consequences and lasting repercussions. The collection ends with a meditation on time and altered perspectives.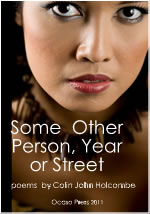 SOME OTHER PERSON COLLECTION OF POEMS
These are poems of place seen through other eyes, poems which aim to capture whatever is individual to their inhabitants or from the larger vistas of history. Fifty locales of the United Kingdom recreated by their particular geographies, associations and history — the small and nondescript, the grand country houses, new towns and old, unpeopled moorlands and industrial belts, the scenes of past splendour and the small, homely scenes that retain our childhood affections. These are unrhymed hexameters, and show what this unusual form will do when handled properly.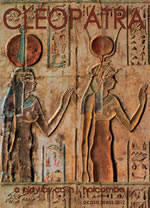 CLEOPATRA VERSE PLAY
The play opens in 41 BC, when Antony and Octavian share the rulership of the Roman world with the third triumvir, the inoffensive Lepidus. Antony is tasked with bringing order to the eastern provinces, and creating some defence against marauding Parthian horsemen who regularly invade Syria. Octavian is in Rome, consolidating his hold on Italian politics and finding land and money to pay his troops. Octavian is Julius Caesar's adopted son, but much Antony's junior partner in years and military experience.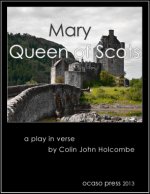 MARY QUEEN OF SCOTS VERSE PLAY
A play in verse that brings to life the turmoil of Mary Stewart's last years in Scotland.
By circumstances, character and upbringing, Mary was incapable of ruling her inheritance. Though she had arguably the greater claim on the English throne, Mary had none of the political cunning, the dissimulation, or the ruthlessness needed for such difficult times.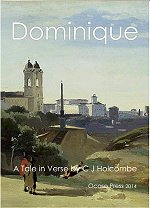 DOMINIQUE
Eugène Fromentin was that most unusual of creatures: a successful genre painter exhibiting regularly at the Salon, and a prose stylist of the first order. He wrote only four books: Un Été dans le Sahara (1857), Une Année dans le Sahel (1859), Dominique (1863) and Les Maîtres d'Autrefois (1876) but all were accomplished, Dominique being warmly praised by the likes of Flaubert, George Sands, Gautier and Sainte-Beuve.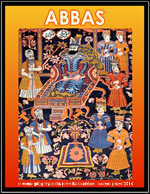 SHAH ABBAS VERSE PLAY
Shah Abbas opens in 1593 at Qazvin, the early Safavid capital of Iran, where the three-day puppet king, enthroned to evade an astrological prediction, was deposed and shot. Thereafter the scene shifts between the courts of Iran, Spain, Hungary and England, to close in 1658, when the widow of Sir Robert Sherley has the remains of her husband removed from Iran and interred in the church of Santa Maria della Scala in Rome.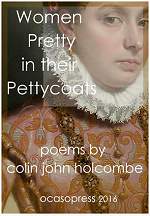 WOMEN PRETTY IN THEIR PETTICOATS
A collection of light verse: poems that rhyme, that scan, and have something to say on themes that have been anathema to serious poetry since W.W.I. destroyed the European belief in progress and common purpose. Very traditional re-renderings of the Hesperides in modern dress, where I have tried to write something different, ringing the changes on conventional themes by re-echoing rhyme and imagery through these song-like pieces. The later poems are less light verse, in fact, but have a seriousness that belongs to poetry proper.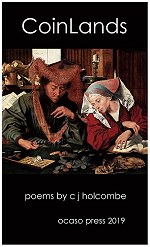 COINLANDS
Extended meditations on coinage: some 48 poems on coins that range from the earliest Archaemenid pieces to the present day. The ancient world, the medieval, the Muslim middle east and the orient: all are covered in brief outline: a whistle-stop tour of money in its various aspects.
Each coin is illustrated and accompanied by a descriptive text giving the historical background and usually something about the coin itself. Numismatics in rhymed hexameter verse, where I hope some of the lure of coins, or of possessing anything of the past,is given its proper justification. In larger terms, this is poetry on definite objects, and so an escape from the vagaries of Modernism.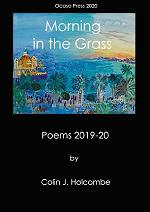 MORNING IN THE GRASS
A sentimental education through the memories and repentances that accumulate over the years to everyone. Each of the forty poems addresses some debt to feminine tutulage that common sense must acknowledge. Most are now so distant in time that it will matter very little to the women involved, but I have tried to be honest to the experience in these thumbnail sketches of love in its varied aspects. More than that, I have tried to recapture and openness to experience that was important to poetry before it became excessively intellectualized.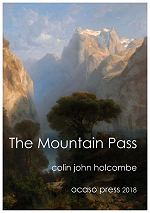 THE MOUNTAIN PASS
The Mountain Pass is aleave-taking, on life and on poetry. I shall probably not write much more, bar a few pieces still on the blocks, and no doubt some Russian translations. The unrealised hopes of youth, the mediating experiences of middle age and now the sharpening perspectives of friends and places that have already passed over are settling into the outlines of a strange finality. Regret, nostalgia, and the need to make sense of life, are the dominant themes.